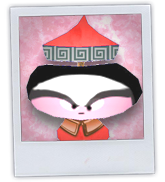 The Orient is the second theme of LittleBigPlanet Portable based on China and its Creator Curator is Emperor Sario.
Characters
Edit
Main Levels
Help the Emperor to re-build his great big wall. [more...]


Escape from the dragon, and avoid becoming crispy roast Sackboy. [more...]


Explore the Emperor's palace and solve his fiendish puzzle rooms. [more...]


Side Levels
Keep running to stop being swallowed by the hungry dragons. Survive for as long as you can, and collect lots of points.


Work out where to stand and avoid a good old fashioned crushing.


Music