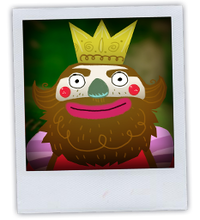 The Garden is the first theme of LittleBigPlanet based on Western Europe and its Creator Curator is The King, specifically England, Your adventure begins in The Gardens, where you'll meet The King and his wife The Queen; the Creator Curators of this green and peaceful kingdom, and the friendly folk who will guide you through your first steps in LittleBigPlanet.
Characters
Edit
Main Levels
Introducing Sackboy, LittleBigPlanet, and the team behind it all! [more...]


Welcome to The Gardens, an idyllic playground in which you'll learn to run, jump, collect prizes, place stickers, avoid danger, and generally find your feet in the world, all under the watchful eye of the wise old King. [more...]


You have to learn to walk before you can run, or in this case before you can grab – so now that you've become a first class runner, it's time to grab things! The King and Queen's castle makes a perfect place to swing about the place and ride the royal steeds. [more...]


All work and no play makes Sackboy all sad inside, so that's why after a hard day learning everything you can about jumping and grabbing, it's time to play! Watch out though: as night-time falls over the gardens, it can get a bit spooky! Can you spot the mysterious Humpty? [more...]


Side Levels
Welcome to Tie Skipping! Keep jumping over the King's tie - don't get knocked off! Survive and collect score bubbles for as long as you can before you die!


Fancy a race? Grab the skateboard and pull it to get it moving, then jump on it quick! Grab when aboard to hold on and pump the button to speed up. Beat the timer and get to the finish post as fast as you can for that high score!


Welcome to the Castle Climb Challenge. Beat the timer and get to the finish post as fast as you can for that high score! Don't forget - collecting score bubbles will pause the timer and win you points!

The Garden theme reappears in The Journey Home.
Main Levels
TBA
TBA
TBA
Side Levels
TBA


Music